8 Top UK Countryside Destinations
The UK has no shortage of pretty villages and glorious national parks, and if you're planning to go on a day trip or an outdoorsy staycation, but aren't sure where, we've got plenty of ideas for you.
From family friendly locations, to seaside spots and romantic getaways, you can get out more with our help, and make the most of the beautiful British Isles.
Portmeirion, Gwynedd
Missed out on a continental holiday this year? Then you need to spend some time in Portmeirion. Designed to emulate an Italian village, complete with cobbled streets, a piazza, and pastel facades, this idiosyncratic town is actually set on a Welsh peninsula.
During the day pack snacks and head to the Gwyllt, a ten hectare woodland, or hop aboard a steam train on the Ffestiniog and Welsh Highland railway. Then stroll through the town, and down to the quayside where you can drink and dine in the evening. If you're looking for a quirky staycation with a Mediterranean vibe, this is the place to be.
Haworth, Yorkshire
The desolate and stirring moors have been the setting for some of the most celebrated English novels, especially those penned by the Bronte sisters. Haworth was the pretty township where they grew up, were inspired, and eventually wrote titles such as Wuthering Heights and Jane Eyre.
Literature fans will adore visiting the Bronte Parsonage Museum, but even if you're not big into the book side of things, Haworth is close to plenty of attractions, natural and otherwise. Make sure you add East Riddlesden Hall, the Keighley and Worth Railway, the Bronte Waterfall and the Penistone Hill Country Park to your sightseeing itinerary.
Kingham, Oxfordshire
Another village that looks like it's been plucked from a fairytale is Kingham in Oxfordshire. Luckily, the attractions and things to do are a little more contemporary, such as visiting The Wild Rabbit headed by Michelin-starred chef Alyn Williams. Historical attractions include the Norman church and 17th century rectory.
Then there's the city of Oxford only 45 minutes south of Kingham. This historical city has some incredible sights, such as the Bodleian Library and Radcliffe Camera. Grab a protein bar, hop on the train, and spend the day exploring Oxford.
Whitstable, Kent
In the south east you'll find the charming town of Whitstable, known for its cosy pubs, adorable sea front, and its oysters. It's long been the weekend getaway destination of Londoners escaping the city, but there are plenty of outdoor and historical attractions nearby.
Explore Deal Castle, the White Cliffs of Dover, and other delightful townships like Broadstairs, once the home to Charles Dickins.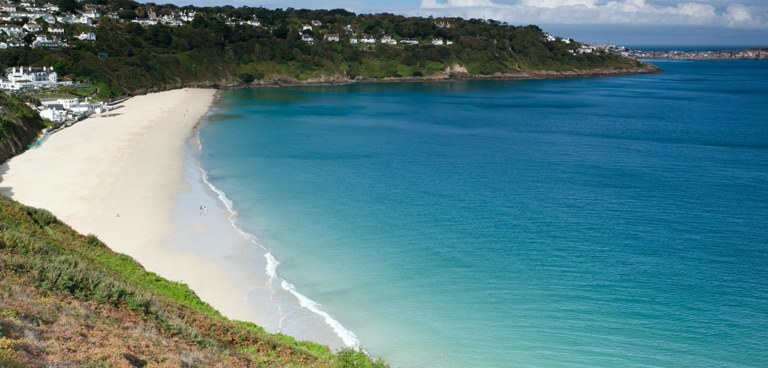 St. Ives, Cornwall
If you love the sea, it's hard to beat the dramatic northern coast of Cornwall, and St. Ives pips every town to the post thanks to its picture postcard looks, golden sand beach, and access to nearby attractions – it's only a 20-minute drive from St. Michael's Mount and 30 mins to Land's End.
Summer or winter, exploring the Cornish coast and the town of St. Ives is just as delightful – especially as so many hotels and bed and breakfasts come with fireplaces and hot tubs! Over the summer, this destination is for families, but in fall and winter, it's perfect for couples.
Bibury, Cotswolds
Did you know Bibury is considered to be one of the prettiest villages in England? Exuding typical Cotswolds charm, the picturesque Arlington Row comprises of stone cottages decorated with creeping vines and clamouring flowers.
This is an ideal destination for a romantic getaway in cosy B&Bs or a for winter holiday complete with roaring fires, and roast dinners. The activity of choice is exploring the gorgeous Cotswolds on foot – just don't forget your camera.
Isle of Mull, Scotland
The UK is peppered with fishing villages and towns all along its coasts, but if you're after a quaint seaside holiday you can't do better than Tobermory on the Isle of Mull. This town is so pretty it looks like a watercolour painting with its brightly coloured homes and mirrored harbour and bobbing boats.
Visit the Tobermory Distillery, Duart Castle, and the standing stones of Lochbuie. For the active, you can munch on a breakfast bar and hit Mull's sole Munro, Ben More.
Keswick, Cumbria
The Lake District is filled with beautiful towns, so picking just one can feel like a homework assignment. Windermere is the most famous, but Keswick is our recommended countryside destination of choice.
Keswick is a market town on Derwentwater, with a reputation for some fine dining restaurants and gastro pubs. There are also plenty of water sports available on the lake, and historical attractions nearby. The hikes around the area are really fantastic too, just make sure you load up your backpack with delicious snacks, sunscreen, and water.
Get out more and see the UK's beautiful villages and national parks, and stay fueled throughout your break with our crunchy bars, protein snacks and sweet and salty treats.